A toolkit to manage continuous change

Is there a need to quickly build change capability in your organisation for the numerous team leaders and line managers who are introducing smaller scale business-led change?
Or perhaps you are a Change Practice Manager who has been asked to do this?
This is an increasingly common scenario.
You know that when change is well planned with a carefully considered approach, the likelihood of successfully implementing a change initiative is much greater.
It sounds like you need a business-led change toolkit! And we've made it easy for you! This will save you days, even weeks of work.
The purpose of this toolkit is to quickly build confidence and capability for people who have little or no formal change management training.
This is the change toolkit for 'non-changies'.
Note: This is a digital product for self-managed learning and application.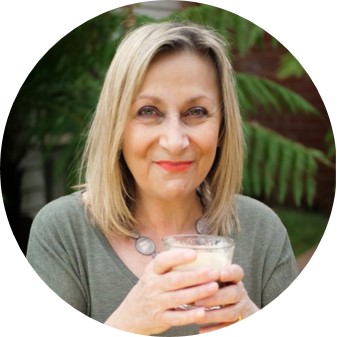 Why I created this toolkit
Now, more than ever before, we are seeing an unprecedented volume of business-led change initiatives that are delivered without the luxury of dedicated change practitioners. Yet...the change needs to be implemented.
We have carefully created this business-led change toolkit to equip you with guidance and supporting resources to help you land this change.
The benefits are many - this practical toolkit will:
Save you time - removing duplication of effort
Stop you second guessing
Build change capability and confidence
Serve as an ongoing resource for reassurance and consistency
Equip you with best practice approaches and tools
Improve the change experience for the end user

I'm Lena Ross from #changehacks and sharing decades of experience in change management and instructional design - in delivery, coaching and building capability for leaders and change practitioners. I know what works, especially in times where change is becoming increasingly relentless and people are experiencing overwhelm.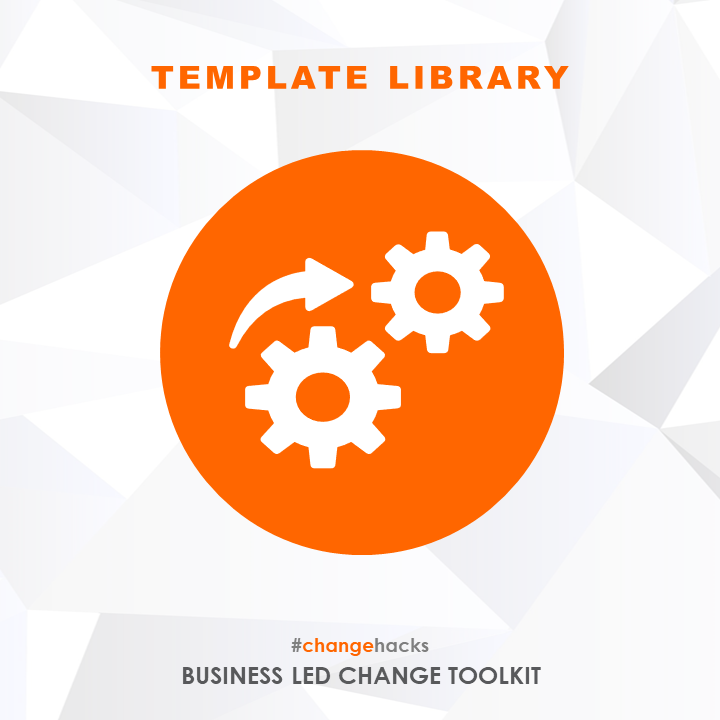 Template Library

Start straight away with your editable templates carefully selected for smaller scale change initiatives. Download, edit and reuse them to save hours of work and to kick off conversations.



Method Cards

Four visual Method Cards provide further guidance are ready to download and keep. Continue to build change capability with these enduring resources.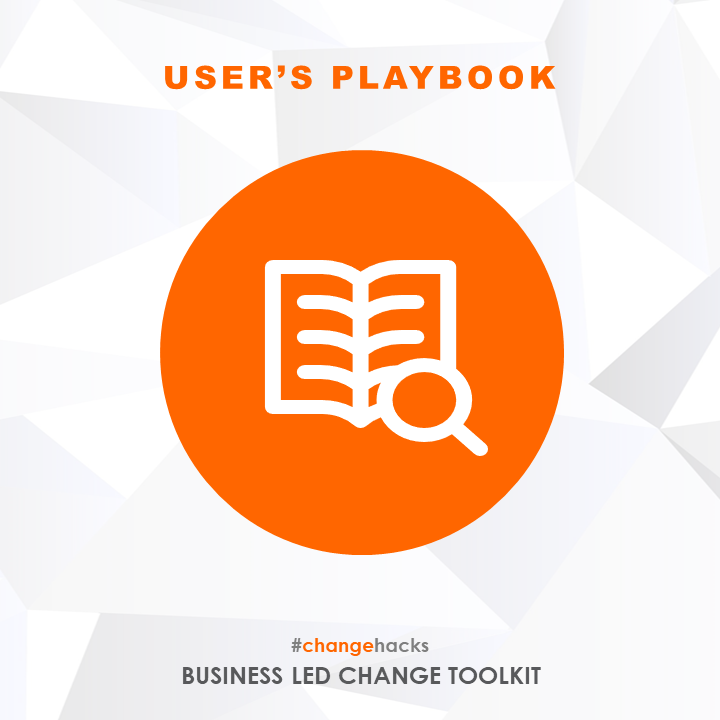 The User's Guide

This unique and valuable playbook for the change initiator that explains the change management approach and how to use each template and the supporting tools.

For the Practice Leader

For the person introducing this toolkit to the business - explains what the content is about and tips on how to roll it out for optimal adoption.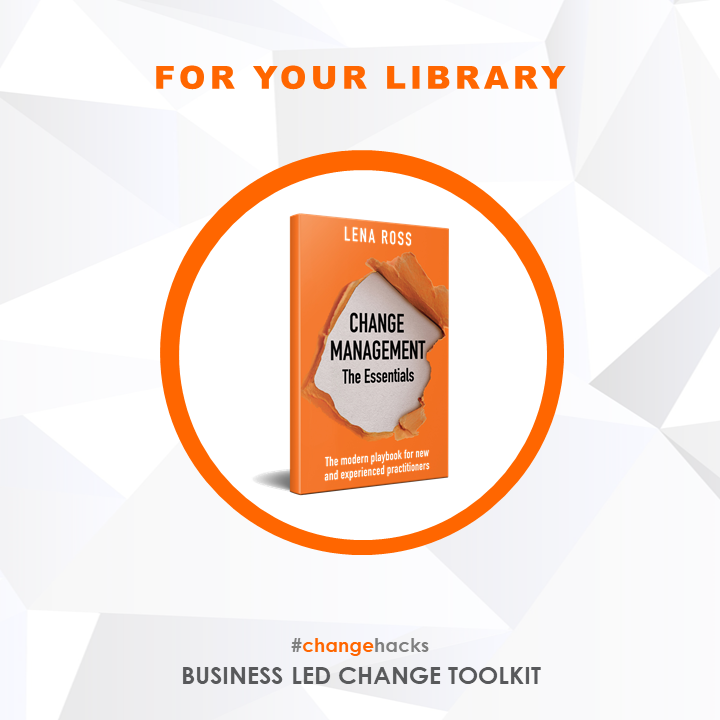 Enduring Resource

You will receive Lena Ross' book Change Management The Essentials for your library. This resource that aligns with the content in the toolkit.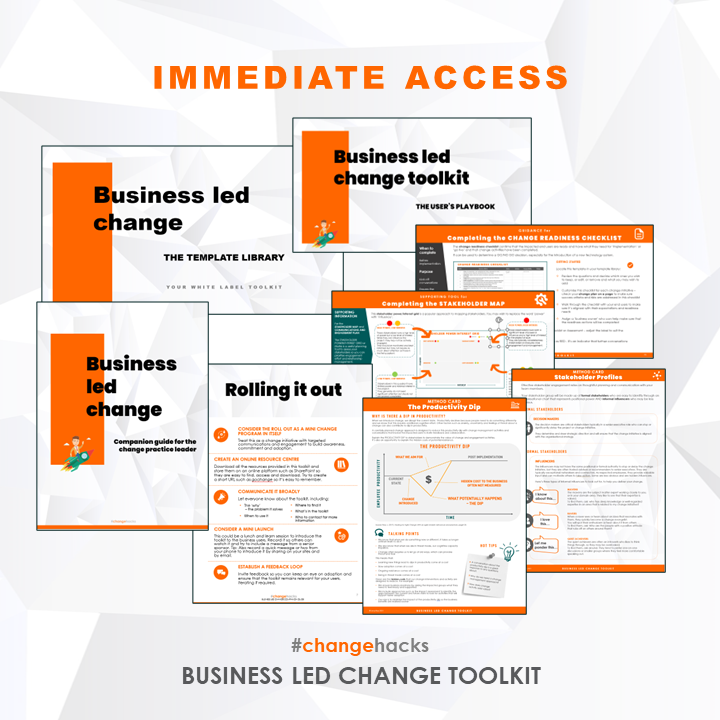 Immediate Application

Instructional Design at its best! You can download and use all the visual and easy-to-read toolkit resources straight away.

Toolkit Contents

Available in days

days after you enroll

Welcome
Available in days

days after you enroll

Business Led Change Toolkit
Available in days

days after you enroll

Where to from here?
Questions and Answers

Who is this for?
There are two main audiences for this product:
Leaders and managers who are introducing change initiatives in their business without a dedicated change resource.

Change Practice Managers looking to build change capability across business by providing a toolkit to help leaders and managers deliver business-led change.

What's included?
Guide for the Change Practice Manager: With tips on how to get started and introduce the toolkit to your business users
Template Library: You can edit the templates and supporting tools to align with your organisation's branding and language.
User's Playbook: This explains your toolkit, change principles and approach, how to complete each template and how to use the supporting tools if required.
Method Cards: Four method cards to further support your change delivery exploring the productivity dip, running a retrospective, stakeholder profiles and the structured change approach.
Copy of the book Change Management The Essentials: The modern playbook for new and experienced practitioners by Lena Ross, to have available in your library as a resource for toolkit users.

How long do I have access to this content?
You have 12 months access to the content. However, these digital assets are yours, for enterprise use, so we suggest you download them as soon as you gain access.

Can I download the resources?
You can download the Template Library and all the PDF resources to keep as an enduring resource.

Can I edit the templates?
Yes, of course! They are provided in PowerPoint format. We include instructions on how to change the colour palette so it suits your organisation's brand colours and typeface. All templates are also yours to keep!
What if I am already working with a change framework or methodology?
Our content is methodology agnostic - You can plug and play these templates and activities in any framework you are already applying.
What happens after I register?
You will have immediate access to the business-led toolkit resources to read and download. This product is a one-time purchase license for use across the enterprise.
Is there any training provided or learning clips to watch?
This is a self-serve package of information and ready-to-use templates. The information includes how-to guidance for each recommended change management template. Reach out to us to discuss how we can support you and your teams with a real-time program delivered virtually.
Who can I contact for more information on next steps and further learning?
Email us at [email protected] if you have any questions. We can arrange a time to chat with you.
Check out our other online programs
Check your inbox to confirm your subscription