Welcome to Change Essentials
The Art of Modern Change Management
This unique online program is for both new and experienced change practitioners.
It includes:
15 short online learning clips (professionally recorded and edited)
22 downloadable tools, templates and infographics
15 change templates you can download and edit to use straight away
Online multi-choice exam to achieve your Digital credential
List of curated resources for curious learners
With 12 months access, you can watch the clips as often as you like.
Check out my intro clip to this online program.

Lena Ross explains more about Change Essentials
The art of modern change management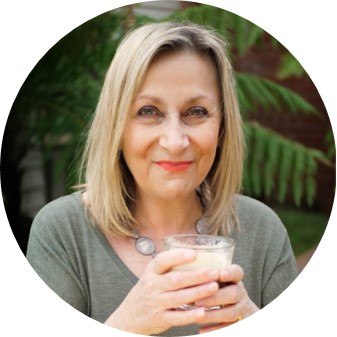 Hi, I'm Lena Ross - your facilitator
I developed this course so you can continue to build your change capability and learn anytime, anywhere.
I've made it as practical as possible with your downloadable tools and templates.
I bring to you over 25 years experience in Change Management. Together, we dive into how to put the ideas into practice and apply them straight away.
You can find out more about me and other resources on my website too!

Frequently Asked Questions

Do I need to have the book to complete the online program?
While the learning content in this program is based on the book "Change Management The Essentials", you can complete the program and use the tools without the book. However the content in the book provides additional detail and is recommended to complement the learning.
Can I download the learning clips?
While the clips cannot be downloaded, all the tools and editable templates can.
Can I watch the learning clips more than once?
Yes, you can watch the clips as often as you like during your access period.
What content is covered in the downloadable PDFs?
The downloadable documents are a set of 'how-to' guides presented in easy to follow infographic format.
What is the duration of each learning clip?
Each learning clip is 5-8 minutes in duration. 
Can I edit the templates?
Yes, of course! They are provided in PowerPoint format. We include instructions on how to change the colour palette so it suits your organisation's brand colours. And you you can edit them to suit your change initiative. Yours to keep!
What do I need to complete to gain the certification and digital credential?
You need to successfully complete the multiple-choice question exam, with 80% correct responses.
You can attempt the exam as many times as you need to during your access period.
The exam questions are based on the content presented in the learning clips.
What do I receive upon successful completion?
You will receive the #changehacks Change Essentials digital credential/badge.
Is there an organisational license or package available for change teams?
Yes we can arrange an enterprise package for teams of five or more. Contact us to find out more on: [email protected]u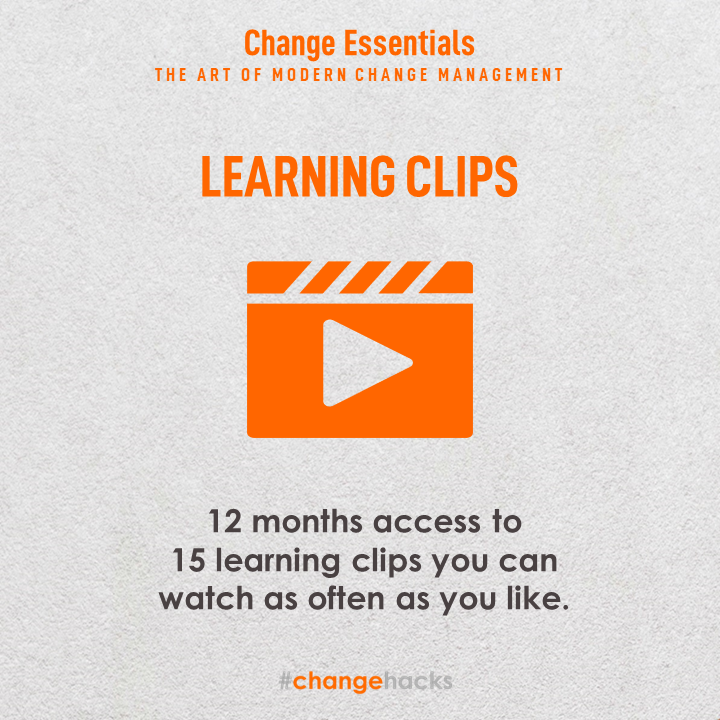 Learning Clips
With 12 months access you can watch our learning clips as often as you like.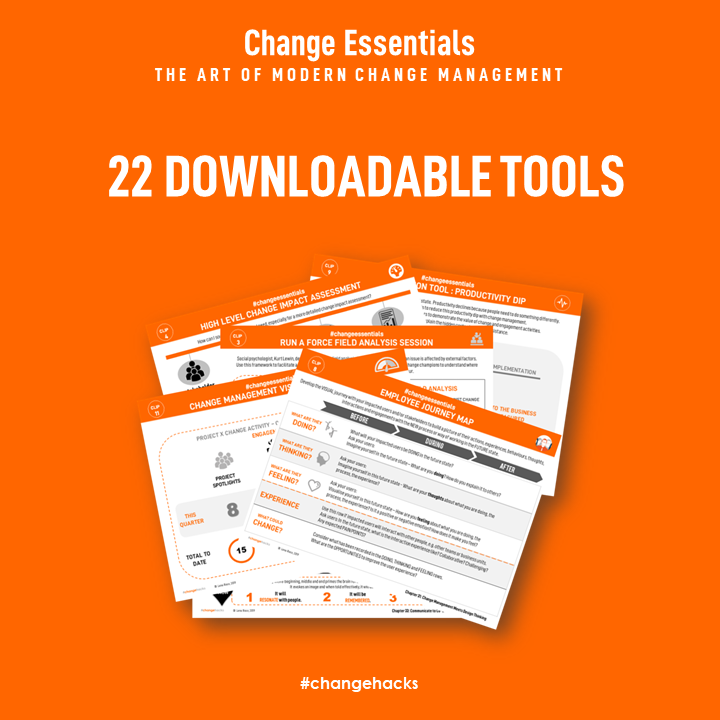 Downloadable Tools
Visual how-to guides to download - yours to keep as valuable ongoing resources.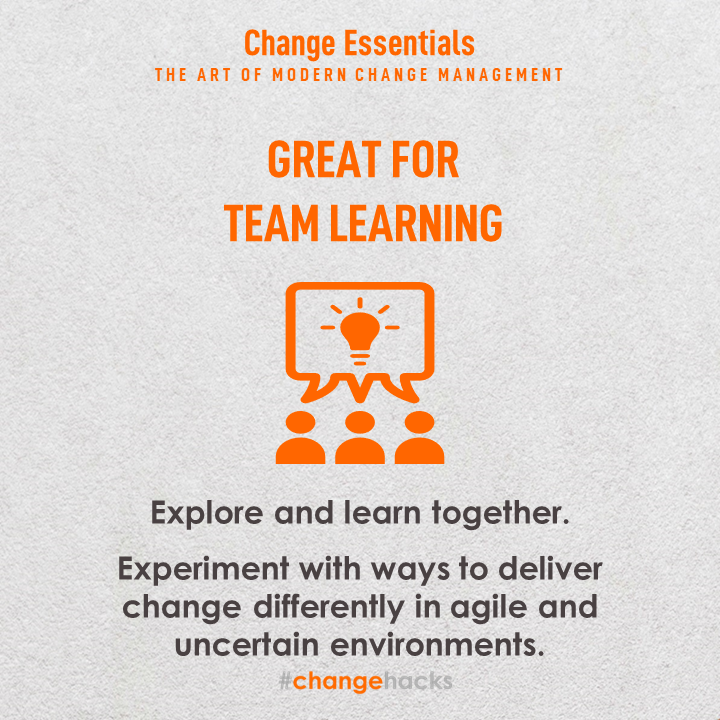 Great for Teams
Tap into the power of peer-to-peer learning and share your insights and learnings.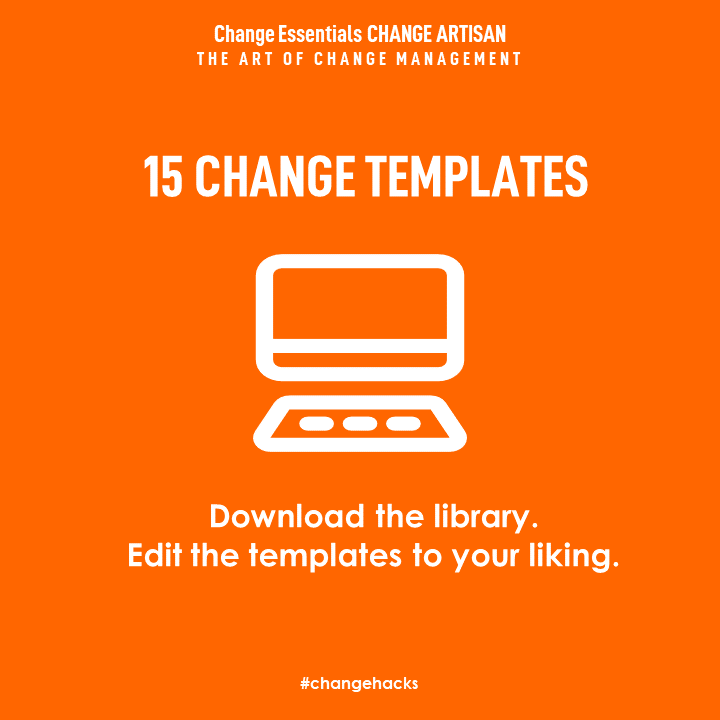 Change Templates
Download and change to suit your needs...yours to keep!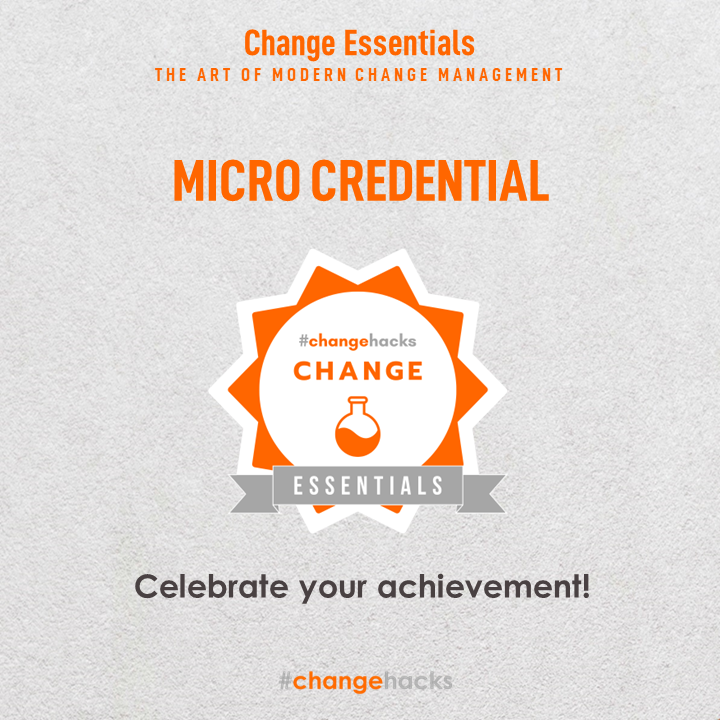 Micro Credential
Complete the 23-question multi-choice online exam to achieve your digital credential. You have multiple attempts.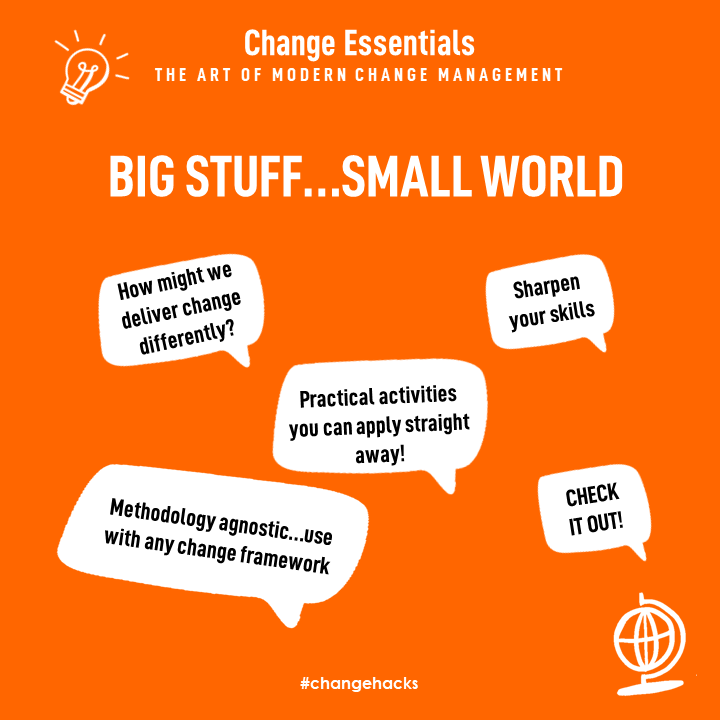 Big Stuff...Small World

We dive into activities you can apply straight away, regardless of which methodology or frameworks you are already using.